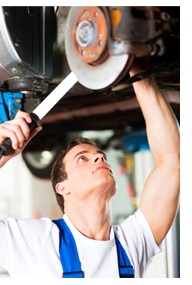 Alpine Automotive is approved by the Government appointed Vehicle Operator Services Agency (VOSA) and all MoT tests are completed by MoT testers nominated by VOSA.
Committed to making the annual process of getting your car MoT'd, Alpine automotive will gladly collect and return your car direct from your place of work (in the local area). Meaning that you can go to work as usual and return to a fully MoT'd car when you finish - Now how easy is that!
Need your car tested in a hurry? Ask about our rapid priority service where we can get your car back to you within the hour.
Discount pre-booking - Why not take away any of the worry about forgetting your next MoT test by pre-booking next years test now? We give a £10 discount to all pre-booked MoT's and will contact you to arrange collection of your vehicle in plenty of time next year.
Alpine Automotive - going the extra mile to keep you on the road.